mintdesigns offers fashion items using unique prints and materials that are unforgettable.

Zig-Zag uses a fabric that is representative of mintdesigns' challenging approach. The material is created with Medicom Toy, and is used in items such as bags and accessories.

A non-uniformed, fresh, white colored zig-zag pattern is printed on a cotton canvas. The material is then PVC coated, and is further embossed to add surface texture.

The smoothness coming from the PVC coexists with the texture coming from the emboss. It's less likely to get dirty, which is a also a big bonus.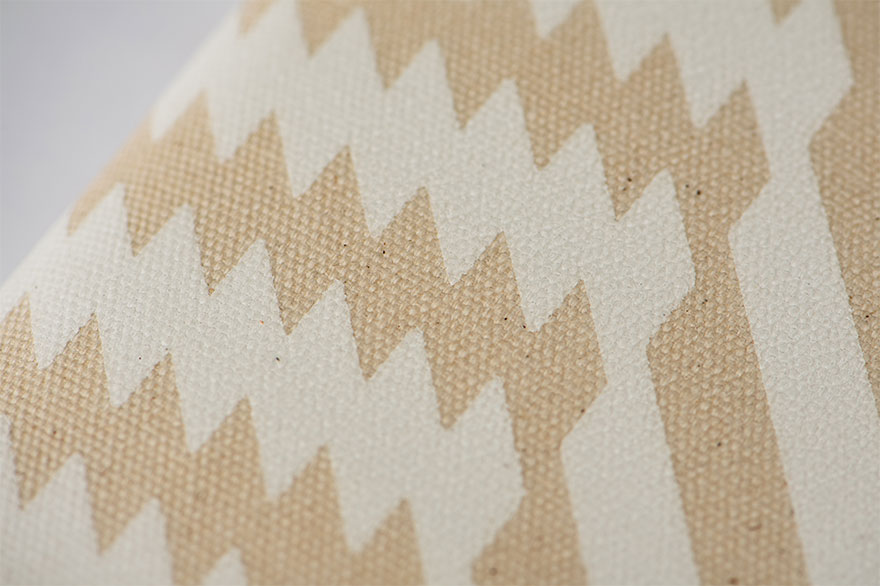 The pen holders and the charms on the end of the bookmarks are made with natural leather. It will fit to your hand the more you use it, and will change color as it ages.

*About the stitches in the center of the cover surface
There has been a change in specifications from the product seen in the 1st-4th image (styled images). The actual product will have stitches in the center of the cover surface. Please see the 5th-9th image for an image of the actual product.

Cover
Size

A6 size
W: 117 x H: 165 x T: 20 mm / W: 4.6" x H: 6.5" x T: 0.8"
*Excluding pen holders
*Specifications may vary slightly

Main material

Exterior: Cotton, PVC, Cow leather
Interior: Cotton, PVC
Pen holders / Bookmark charms: Cow leather
Book (Original / Japanese / April Start)
Size

A6 size
W: 105 x H: 148 x T: 14 mm / W: 4.1" x H: 5.9" x T: 0.6"
*Actual book size may vary slightly

Language

Japanese

Pages

464 pages

Binding

Stitch-binding

Paper Type

Thin, light Tomoe River paper resistant to bleeding and designed for planners.

Graph Paper Size

3.7 mm
*Monthly pages are 3.45 mm

Yearly Calendar

2020, 2021, 2022

Yearly Index

Feb. 2021 - May. 2022 (8 pages)

Monthly Calendar

Feb. 2021 - May. 2022 (32 pages)

Daily Pages

Apr. 1 2021 - Mar. 31, 2022 (377 pages)
*A blank two-page spread is featured at the very beginning of the book to provide a free area when starting out the book.
*A page is included at the beginning of each month to help in planning ahead.
*All daily pages include daily quotes.

Daily Quotes

One per day (Japanese)

Weekly Pages

Not included

Memo Pages

13 pages

Informational Pages

Time Table / Graph Paper / Favorites / My 100 / Solar Terms / Weather Terms for your Techo / Basic Posture Techniques / Finding New "Likes" / Emergency Preparedness / Conversion Chart / Getting the most of Hobonichi / Gifts / Age Table / Addresses (for 6 people) / Personal Notes

Listed Information

Day of the year / Week of the year (listed on monthly calendars) / Old lunar calendar / Rokuyo (traditional Japanese lunisolar calendar) (listed on monthly calendars) / Solar terms / Japanese holidays / Moon phase 
Note: The Hobonichi Techo's Tomoe River paper is designed to prevent bleed-through, but some fountain pens and water-based ink pens are not compatible with this paper. When switching to a new pen, we recommend testing the pen somewhere in the book, such as the back memo pages, to see if the ink bleeds through or takes an especially long time to dry.
For the full collection of Hobonichi items; https://www.stickerrificstore.com/hobonichi