This cover is the latest addition to the Hobonichi Techo's Japan Manga Classics series. It features the popular character Dorami-chan from Doraemon, the classic series from celebrated manga artist Fujiko F. Fujio.

Art director Idea Oshima designed this lovely cover to reflect all the cuteness of Dorami-chan herself, starting with the expression on her face in the silkscreen print at the center. Special attention was paid to the way Dorami-chan was printed differently from the rest of the cover, giving it a special texture. Dorami-chan's pockets inspired the yellow-and-red plaid pattern.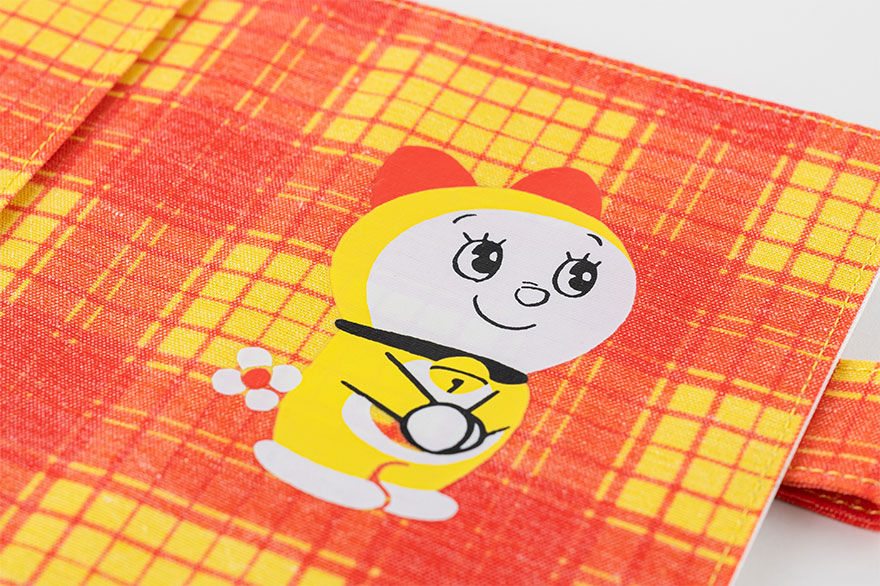 The two round, black strings of the bookmarks have small red and white flowers as charms, modeled after Dorami-chan's tail.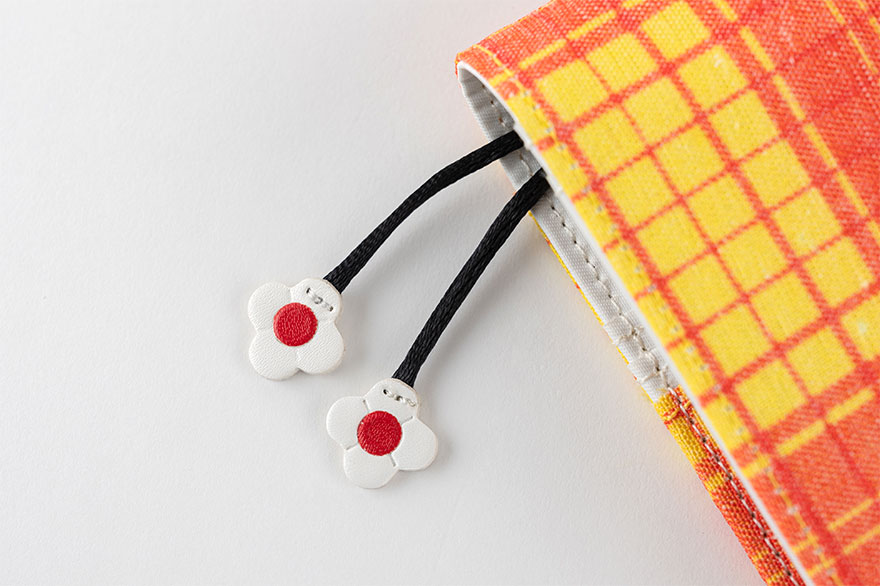 The cover interior is a pale cream color.

While Dorami-chan is the star of this cover, Doraemon and Nobita-kun do make little cameos! Inside the cover is "Nobiemon," who appears in Volume 17 of Doraemon from the Tentomushi Comics series.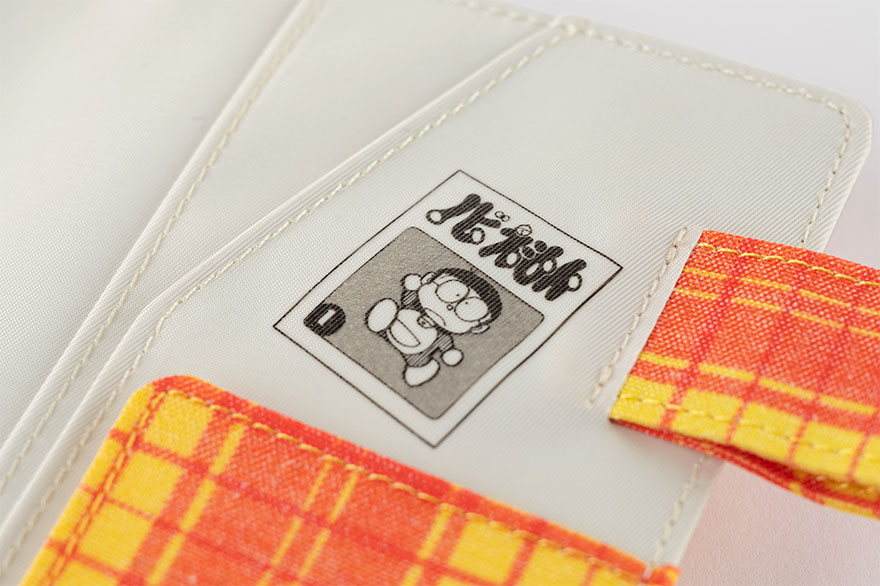 This cover includes a sticker of Doraemon lying down.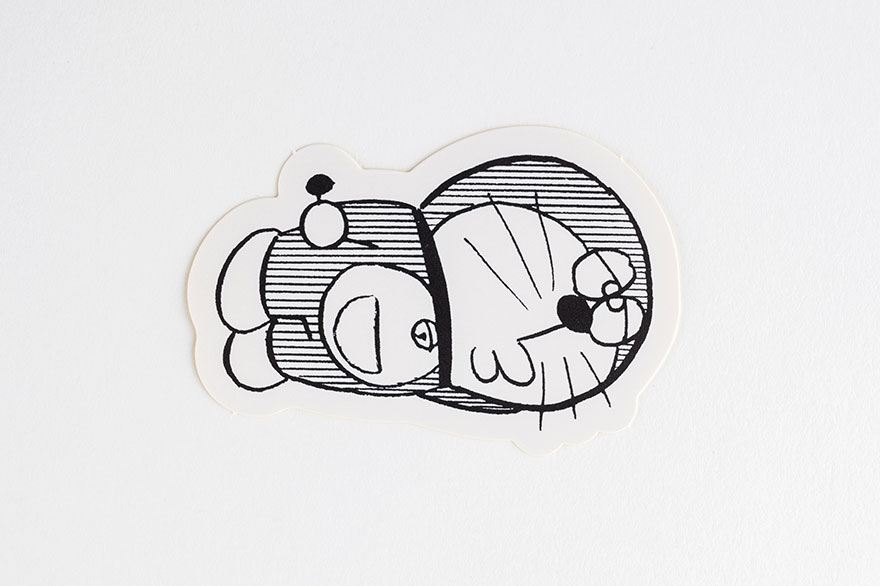 It's a scene from Volume 4 of the Tentomushi Comics series, where Dorami-chan made her first appearance. Dorami-chan showed up just as Nobita was worried about Doraemon, who had stopped moving, explaining that he was just switched off. "Robots have to rest their machines once in a while. Oh, me? I'm Dorami, Doraemon's little sister. I'll take care of you while my brother recharges."

It's a memorable scene from the comic, and with the sticker you can immortalize it anywhere you'd like.

Dorami-chan is a precocious robot who loves melon bread and is always ready to trade places with Doraemon and save the day when Nobita-kun is in trouble. All that, plus her charming eyes, show through in this energetic cover, which brings together everything that makes people love Dorami-chan.

It's comforting to have Dorami-chan by your side, so this techo cover is just the ticket for enjoying yourself every day.
Sold separately is the Cover on Cover. In addition to protecting your cover from wear and tear, the Cover on Cover is a great place to store postcards, pictures, and other decorations to customize your cover at any time.

Cover
Size

A6 size
W: 117 x H: 165 x T: 20 mm / W: 4.6" x H: 6.5" x T: 0.8"
*Excluding pen holders
*Specifications may vary slightly

Main material

Polyester
Book (Original / Japanese / April Start)
Size

A6 size
W: 105 x H: 148 x T: 14 mm / W: 4.1" x H: 5.9" x T: 0.6"
*Actual book size may vary slightly

Language

Japanese

Pages

464 pages

Binding

Stitch-binding

Paper Type

Thin, light Tomoe River paper resistant to bleeding and designed for planners.

Graph Paper Size

3.7 mm
*Monthly pages are 3.45 mm

Yearly Calendar

2020, 2021, 2022

Yearly Index

Feb. 2021 - May. 2022 (8 pages)

Monthly Calendar

Feb. 2021 - May. 2022 (32 pages)

Daily Pages

Apr. 1 2021 - Mar. 31, 2022 (377 pages)
*A blank two-page spread is featured at the very beginning of the book to provide a free area when starting out the book.
*A page is included at the beginning of each month to help in planning ahead.
*All daily pages include daily quotes.

Daily Quotes

One per day (Japanese)

Weekly Pages

Not included

Memo Pages

13 pages

Informational Pages

Time Table / Graph Paper / Favorites / My 100 / Solar Terms / Weather Terms for your Techo / Basic Posture Techniques / Finding New "Likes" / Emergency Preparedness / Conversion Chart / Getting the most of Hobonichi / Gifts / Age Table / Addresses (for 6 people) / Personal Notes

Listed Information

Day of the year / Week of the year (listed on monthly calendars) / Old lunar calendar / Rokuyo (traditional Japanese lunisolar calendar) (listed on monthly calendars) / Solar terms / Japanese holidays / Moon phase 
Note: The Hobonichi Techo's Tomoe River paper is designed to prevent bleed-through, but some fountain pens and water-based ink pens are not compatible with this paper. When switching to a new pen, we recommend testing the pen somewhere in the book, such as the back memo pages, to see if the ink bleeds through or takes an especially long time to dry.

For the full collection of Hobonichi items; https://www.stickerrificstore.com/hobonichi