Graphic designer and illustrator born in 1936. Joined Light Publicity in 1959 and began freelancing in 1968. Took on cover design for Shukan Bunshun in 1977. Directed his first movie, Mahjong Horoki, in 1984. Has published over 200 books and won a number of awards, including the 1989 Blue Ribbon Award, the 1994 Hiroshi Kikuchi Award, the 1997 Mainichi Design Award, and the 15th Annual Japan Manga Association Special Award.
This Weeks book has a gentle charm to it, thanks to the illustration by famous Japanese graphic designer and illustrator Makoto Wada.

The title of the piece is Embrace the Constellations. Wada has been illustrating the covers of literary magazine Shukan Bunshun for over 40 years, starting in 1977. This piece was featured on the cover of the November 7, 2002 edition.

Wada created these constellation illustrations based on a 400-year-old star chart. The map's order is flipped horizontally from modern versions, but Wada had an explanation for this: "This is apparently the view from the eyes of God, who sits even higher than the stars and watches them below. It's fascinating seeing the grand scale from which folks from a long time ago thought about these things."

This piece is printed on the Weeks book's slightly textured, canvas-like cover material. Between the wide array of colors and the warm feel of the brush, this book is sure to raise the spirits of its user.

The year 2021 is foil-pressed in matte gold and has an elegant yet casual shine to it.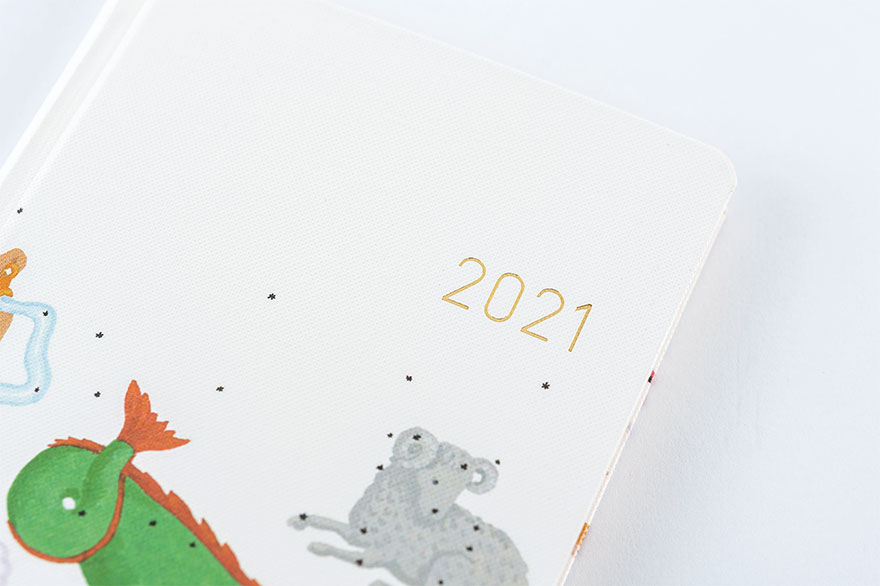 The corner of the back cover includes Makoto Wada's name and a Hobonichi logo.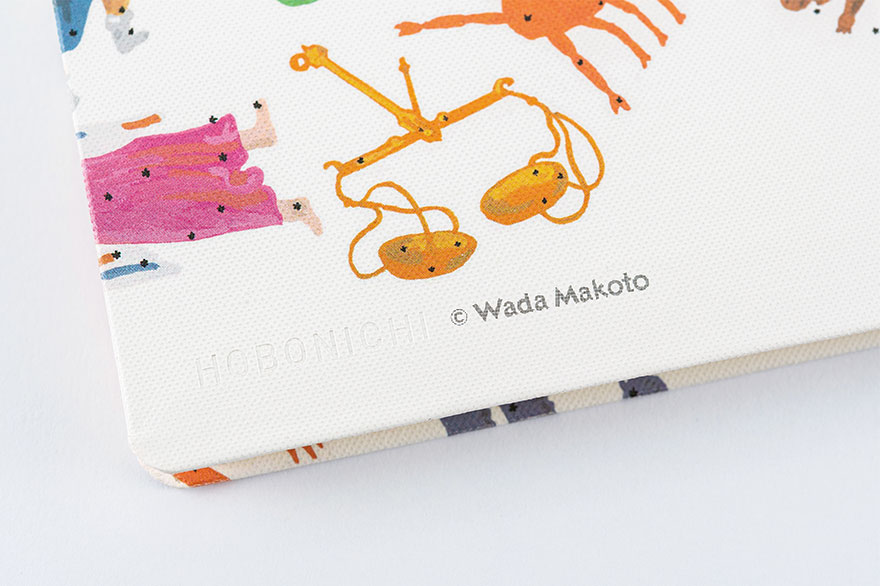 When you've got Wada's cute yet beautiful constellations tucked in your pocket or bag, your techo will bring you many lovely days.

When you order this Hobonichi Techo Weeks, you'll receive a clear, adhesive corner pocket you can stick anywhere you like.




If you'd like storage space or a way to change up the look of your Weeks book, you can customize your book by pairing it with a Weeks cover which is also available for sale in store. 
Size

W: 94 x H: 188 x T: 10 mm / W: 3.7" x H: 7.4" x T: 0.4"
*Specifications may vary slightly

Main material

Synthentic canvas, paper

Language

Japanese

Pages

240 pages

Binding

Stitch-binding

Paper Type

Thin, light Tomoe River paper resistant to bleeding and designed for planners.

Graph Paper Size

3.55 mm

Yearly Calendar

2020, 2021, 2022

Yearly Index

Jan. - Dec. 2021 (2 pages)

Monthly Calendar

Dec. 2020 - Mar. 2022 (32 pages)

Daily Quotes

One per week (Japanese)

Weekly Calendar

Nov. 30, 2020 - Jan. 2, 2022 (114 pages)
*All weekly pages include quotes.

Graph Paper

71 pages

Informational Pages

Shorthand Note-Taking / Graph Paper / Using Common Items to Measure Size / My 100 / Solar Terms / Weather Terms for your Techo / Basic Posture Techniques / Emergency Preparedness / Age Table / Conversion Chart / Getting the most of Hobonichi / Contact List / Personal Notes

Listed Information

Week of the year / Rokuyo (traditional Japanese calendar) / Solar terms / Japanese holidays / Moon phase (weekly pages include every phase, monthly calendars only include full and new moon)

*The 2021 Weeks book is produced based on information as of April 2020. Holidays may be subject to change.
Note: The Hobonichi Techo's Tomoe River paper is designed to prevent bleed-through, but some fountain pens and water-based ink pens are not compatible with this paper. When switching to a new pen, we recommend testing the pen somewhere in the book, such as the back memo pages, to see if the ink bleeds through or takes an especially long time to dry.
For the full collection of Hobonichi items; https://www.stickerrificstore.com/hobonichi