We made a techo cover that is perfect to use actively and bring along with you wherever you go.
This cover uses a ripstock fabric that is resistant to tearing and ripping, and is often used in parachutes, tents and hiking rucksacks - any item that requires resistance. Nylon is cross woven in the fabric, making it sturdy and strong against rubbing.

On the interior is a mesh pocket. Thanks to its wide opening, you can put in items that are large. There is also an elastic band inside to secure anything on the spot, whether it be stationery or cables. You can carry around your essentials, which makes this cover useful.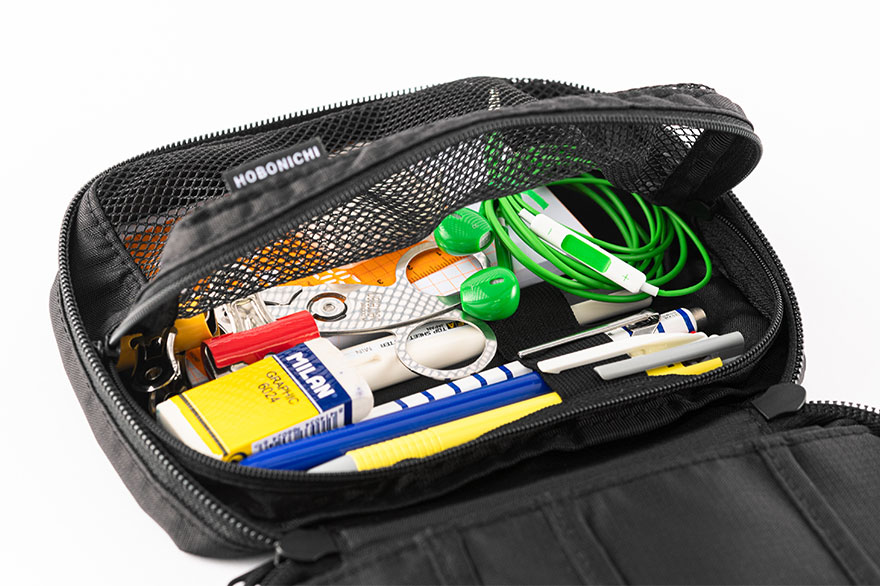 You will find a large pocket on the right side where you can slot the book cover of your techo. The pen hook is designed to hold a pen by its clip.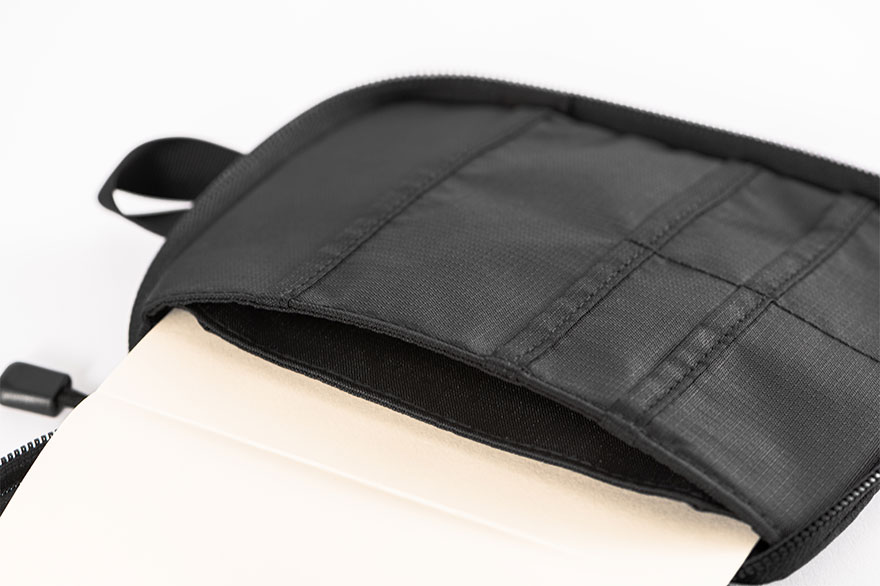 The top of this cover has a hook, alongside a large pocket on the back. The zipper pull is a drawcord, exemplary of an outdoor item.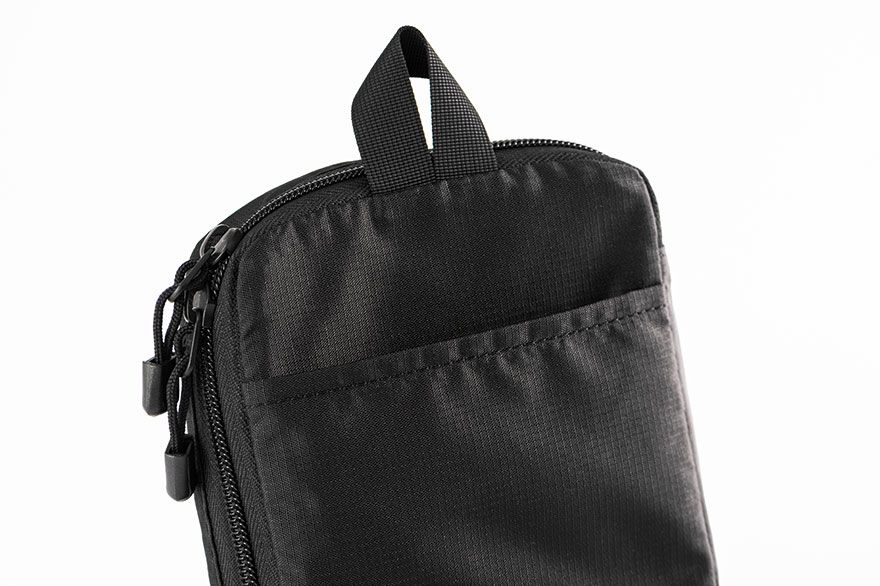 In order to fully use the storage that's available, we recommend you only slot one side of the book cover into the techo cover.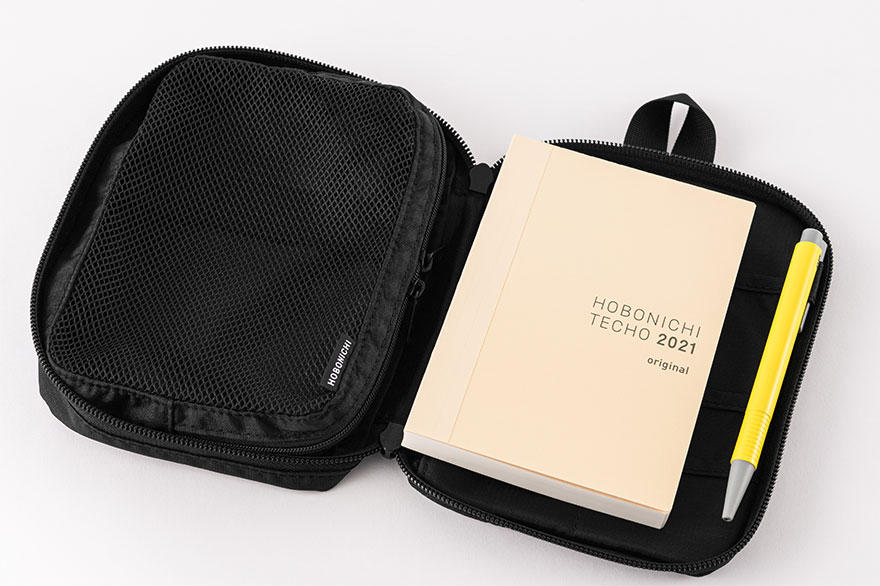 The print on the front is black to match the color of the color; it's subtleness adds to the charm of this cover.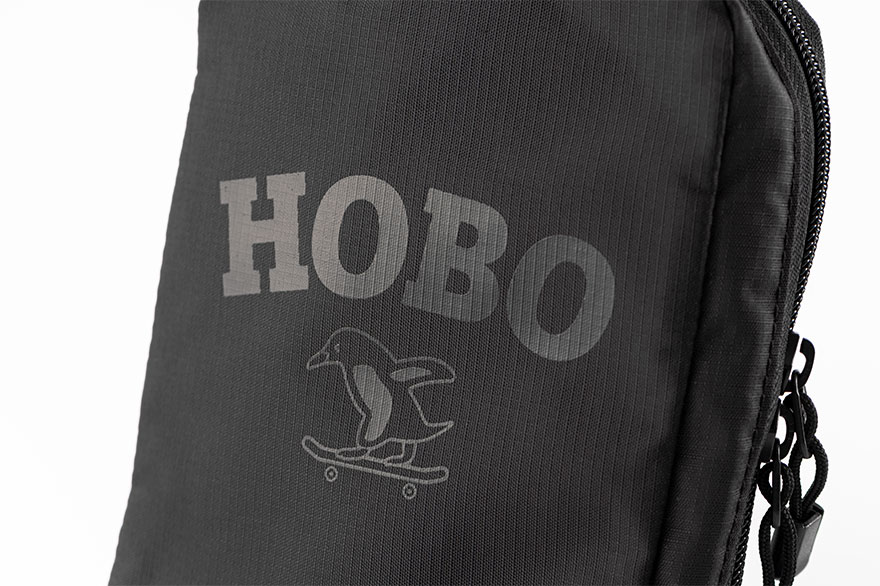 We hope you fill this cover with various items and bring it with you wherever you go.
Cover
Size

A6 size
W: 145 x H: 185 x T: 45 mm / W: 5.7" x H: 7.3" x T: 1.8"
*Specifications may vary slightly

Main material

Nylon
Book (Planner / English / January Start)
Size

A6 size
W: 105 x H: 148 x T: 14 mm / W: 4.1" x H: 5.9" x T: 0.6"
*Actual book size may vary slightly

Language

English

Pages

448 pages

Binding

Stitch-binding

Paper Type

Thin, light Tomoe River paper resistant to bleeding and designed for planners.

Graph Paper Size

4 mm

Yearly Calendar

2021, 2022

Yearly Index

Dec. 2020 - Mar. 2022 (8 pages)

Monthly Calendar

Dec. 2020 - Mar. 2022 (32 pages)

Daily Pages

Jan. 1 - Dec. 31, 2021 (377 pages)
*A blank two-page spread is featured at the very beginning of the book to provide a free area when starting out the book.
*A page is included at the beginning of each month to help in planning ahead.
*Every two-page daily page spread includes one daily quote.

Daily Quotes

One quote per two-page spread (English)

Weekly Pages

Not included

Memo Pages

18 pages

Informational Pages

Important Contacts / International Size Charts / Conversion Table / My 100 / The Japanese Bread Shop / Personal Notes

Listed Information

Day of the year / Week of the year (listed on monthly calendars and daily pages) / Moon phase (daily pages include every phase, monthly calendars only include full and new moon)
Note: The Hobonichi Techo's Tomoe River paper is designed to prevent bleed-through, but some fountain pens and water-based ink pens are not compatible with this paper. When switching to a new pen, we recommend testing the pen somewhere in the book, such as the back memo pages, to see if the ink bleeds through or takes an especially long time to dry.
For the full collection of Hobonichi items; https://www.stickerrificstore.com/hobonichi