Iron artist Noboru Makizuka created the ship and lighthouse brooches pictured on this techo cover, which has a theme of "sea travel." We want the cover design to fill users with a sense of adventure, ready to explore the great unknown in their own lives.

Part of Makizuka's UMIKOTO series, the ships and lighthouses shown through these brooches exist in real life, and are used to this day across the seas of Japan.

The blue base color is modeled after the ocean, but look closely and you'll see the subtle markings of the iron that was photographed to make it. Inside the outer pocket on the back of the cover, you'll find something special just for owners of this cover!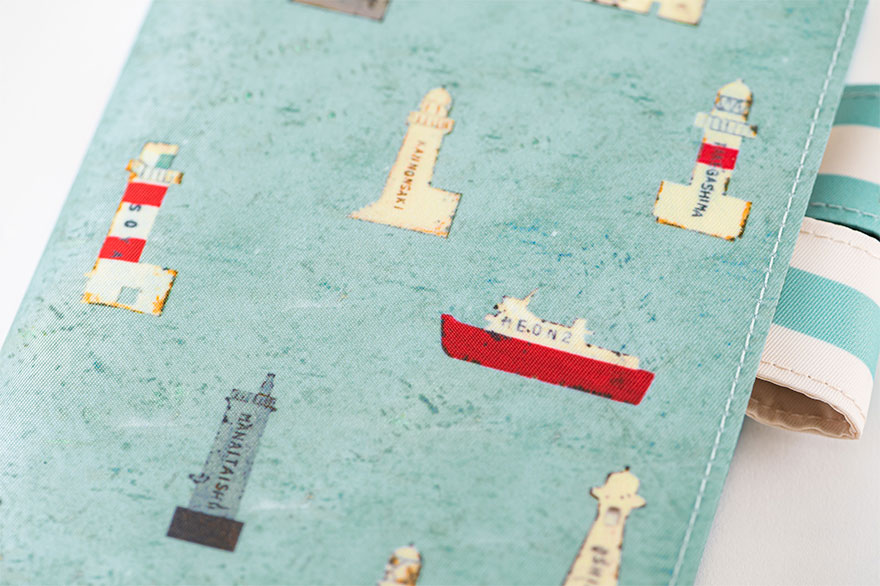 The pockets inside the cover have silhouettes of anchors and the UMIKOTO name printed with silkscreen.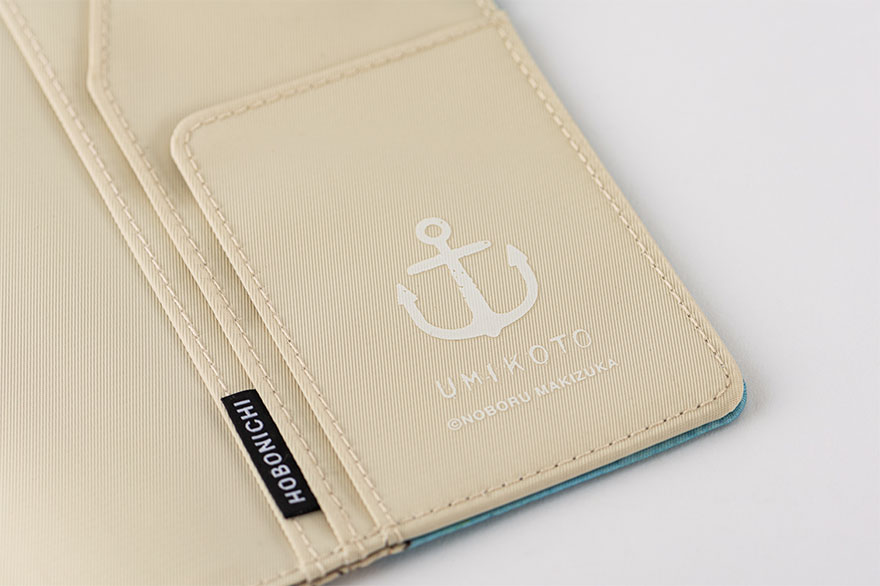 The pen-holders line up to show marine-style stripes when the cover is closed.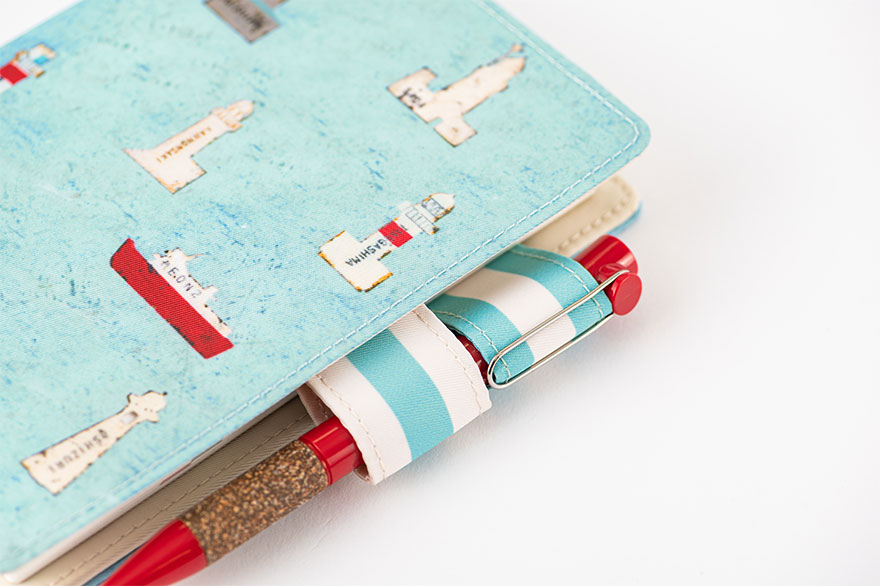 Sold separately is the Cover on Cover. In addition to protecting your cover from wear and tear, the Cover on Cover is a great place to store postcards, pictures, and other decorations to customize your cover at any time.

Cover
Size

A6 size
W: 117 x H: 165 x T: 20 mm / W: 4.6" x H: 6.5" x T: 0.8"
*Excluding pen holders
*Specifications may vary slightly

Main material

Polyester
Book (Planner / English / January Start)
Size

A6 size
W: 105 x H: 148 x T: 14 mm / W: 4.1" x H: 5.9" x T: 0.6"
*Actual book size may vary slightly

Language

English

Pages

448 pages

Binding

Stitch-binding

Paper Type

Thin, light Tomoe River paper resistant to bleeding and designed for planners.

Graph Paper Size

4 mm

Yearly Calendar

2021, 2022

Yearly Index

Dec. 2020 - Mar. 2022 (8 pages)

Monthly Calendar

Dec. 2020 - Mar. 2022 (32 pages)

Daily Pages

Jan. 1 - Dec. 31, 2021 (377 pages)
*A blank two-page spread is featured at the very beginning of the book to provide a free area when starting out the book.
*A page is included at the beginning of each month to help in planning ahead.
*Every two-page daily page spread includes one daily quote.

Daily Quotes

One quote per two-page spread (English)

Weekly Pages

Not included

Memo Pages

18 pages

Informational Pages

Important Contacts / International Size Charts / Conversion Table / My 100 / The Japanese Bread Shop / Personal Notes

Listed Information

Day of the year / Week of the year (listed on monthly calendars and daily pages) / Moon phase (daily pages include every phase, monthly calendars only include full and new moon)
Note: The Hobonichi Techo's Tomoe River paper is designed to prevent bleed-through, but some fountain pens and water-based ink pens are not compatible with this paper. When switching to a new pen, we recommend testing the pen somewhere in the book, such as the back memo pages, to see if the ink bleeds through or takes an especially long time to dry.
For the full collection of Hobonichi items; https://www.stickerrificstore.com/hobonichi