Makoto Wada is a graphic designer and illustrator born in 1936. Joined Light Publicity in 1959 and began freelancing in 1968. Took on cover design for Shukan Bunshun in 1977. Directed his first movie, Mahjong Horoki, in 1984. Has published over 200 books and won a number of awards, including the 1989 Blue Ribbon Award, the 1994 Hiroshi Kikuchi Award, the 1997 Mainichi Design Award, and the 15th Annual Japan Manga Association Special Award.

This beautiful cover features an illustration by famous Japanese graphic designer and illustrator Makoto Wada.

Wada has illustrated the covers of the literary magazine Shukan Bunshun for over 40 years. The Time-Traveling Bird techo cover uses the art from that very first issue, originally published on May 12, 1977. In it, a little bird holds an airmail letter beneath a starry night sky. The image was Wada's way of saying, "This magazine cover is a message to readers."

This cover actually includes additional art as well. The pockets of the cover interior show the little green bird flapping his wings as he carries the letter.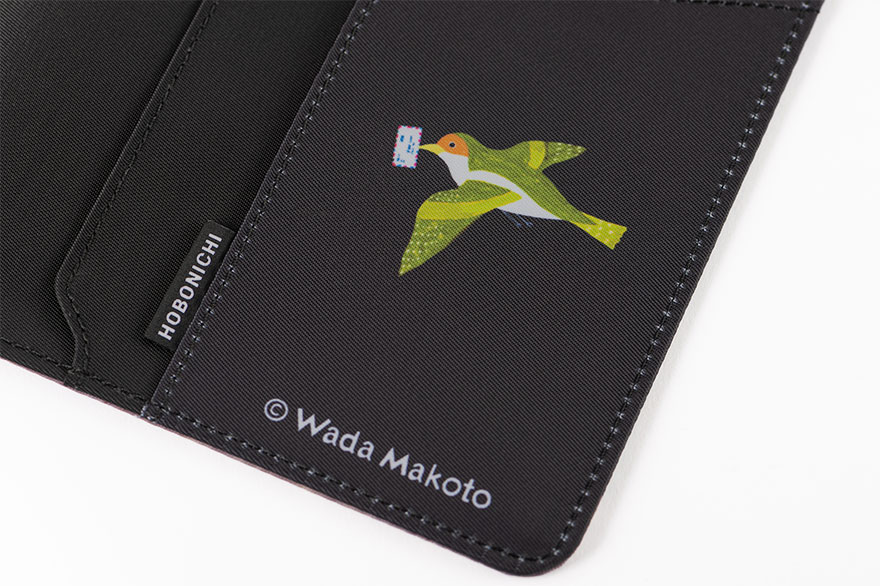 This version is actually from the July 20, 2017 magazine issue, which celebrated Wada's 2000th cover. This little green bird has traveled very far, flying across 40 years of time.

These two pieces of art, symbolic of Wada's body of work on the Shukan Bunshun magazine covers, are each like a message to the viewer, and are now combined into a single techo cover.

*Due to the construction of the cover, the material along the spine may become slack when the cover is opened flat.
Cover
Size

A5 size
W: 162 x H: 228 x T: 20 mm / W: 6.4" x H: 9.0" x T: 0.8"
*Excluding pen holders
*Specifications may vary slightly

Main material

Polyester
Book (Cousin / Japanese / January Start)
Size

A5 size
W: 148 x H: 210 x T: 17 mm / W: 5.8" x H: 8.3" x T: 0.7"
*Actual book size may vary slightly

Language

Japanese

Pages

544 Pages

Binding

Stitch-binding

Paper Type

Thin, light Tomoe River paper resistant to bleeding and designed for planners.

Graph Paper Size

3.7 mm
*Monthly pages are 3.45 mm

Yearly Calendar

2020, 2021, 2022

Yearly Index

Jan. 2021 - Dec. 2021 (4 pages)

Monthly Calendar

Dec. 2020 - Mar. 2022 (32 pages)

Daily Pages

Jan. 1 - Dec. 31, 2021 (377 pages)
*A blank two-page spread is featured at the very beginning of the book to provide a free area when starting out the book.
*A page is included at the beginning of each month to help in planning ahead.
*All daily pages include daily quotes.
Note: The Hobonichi Techo's Tomoe River paper is designed to prevent bleed-through, but some fountain pens and water-based ink pens are not compatible with this paper. When switching to a new pen, we recommend testing the pen somewhere in the book, such as the back memo pages, to see if the ink bleeds through or takes an especially long time to dry.
For the full collection of Hobonichi items; https://www.stickerrificstore.com/hobonichi