Born April 24, 1862 in present-day Sakawa Town, Kochi Prefecture. Raised in the rich natural surroundings of Tosa City, he began to study botany independently as a young child. Moved to Tokyo and devoted himself to botanical research through the Department of Botany at Tokyo University's Faculty of Science.
Founded "The Botanical Magazine" with a close friend; they collaborated to publish their discovery of the flowering plant Yamatogusa in 1889. Collected over 400,000 specimens during his 94-year lifespan, and named over 1,500 discovered species. Known as the "Father of Japanese Botany."
This Weeks book features an intricately drawn illustration of a jourou hototogisu, or toad lily, created by the botanist Tomitaro Makino in 1888.

The toad lily's yellow flowers are set off by vibrant green leaves. The name jourou means "lady of the palace," a striking metaphor for the flowers' elegant beauty. Makino discovered the flower in 1887 and later colored a printed version of the original illustration. This diagram comes from the very beginning of his book Illustrations of the Flora of Japan.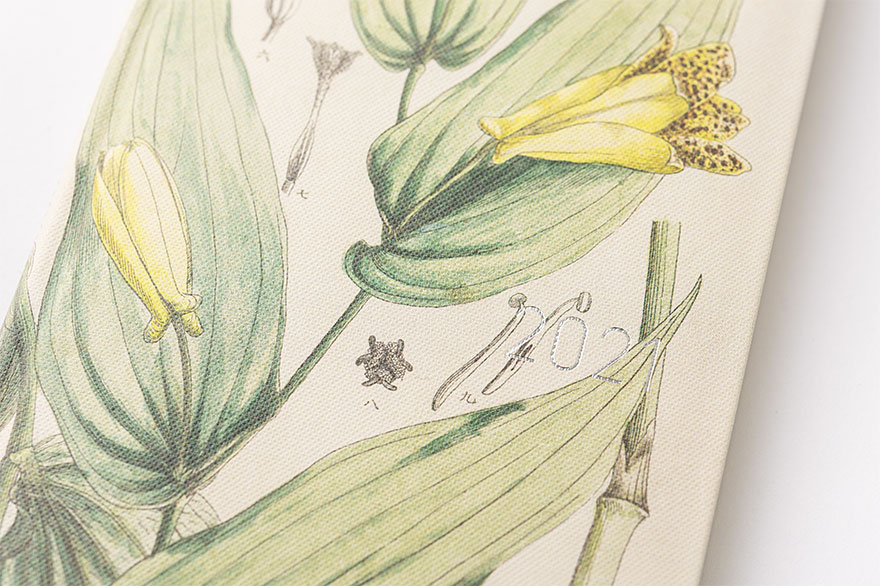 About 130 years ago the scientific community, using magnifying lenses and microscopes, began to construct diagrams of the toad lily. Professor Makino faithfully illustrated all the details of the flower, like its spots and the structure of its leaves. His illustration also lays out its various parts in detail, all of which were drawn while carefully referencing the real thing.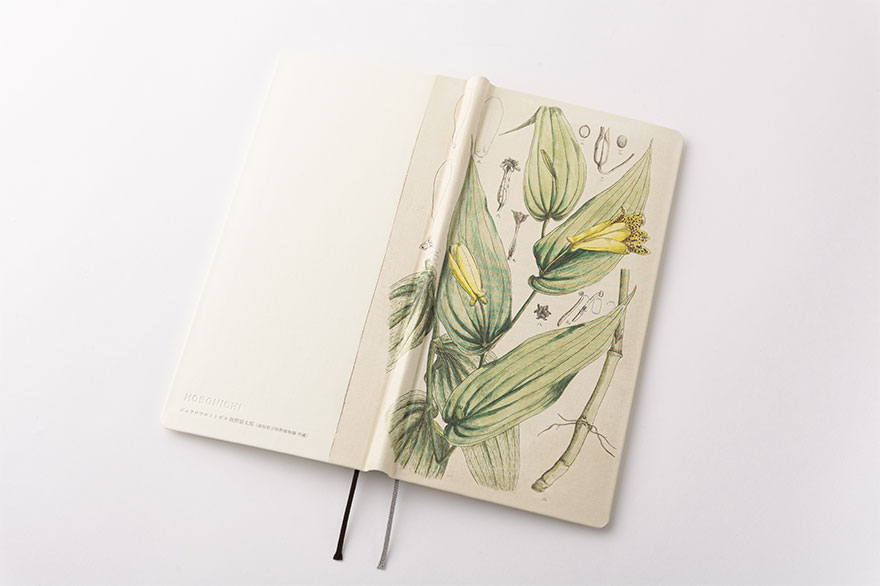 The rough fabric of the book cover is modeled after canvas, and the vintage botanical illustration makes this book a joy to have in your daily life.

The cover has been constructed as a light hardcover book with some give to it so it still bends.

When you order this Hobonichi Techo Weeks, you'll receive a clear, adhesive corner pocket you can stick anywhere you like.




If you'd like storage space or a way to change up the look of your Weeks book, you can customize your book by pairing it with a Weeks cover which is also available for sale in store. 
Size

W: 94 x H: 188 x T: 10 mm / W: 3.7" x H: 7.4" x T: 0.4"
*Specifications may vary slightly

Main material

Synthentic canvas, paper

Language

Japanese

Pages

240 pages

Binding

Stitch-binding

Paper Type

Thin, light Tomoe River paper resistant to bleeding and designed for planners.

Graph Paper Size

3.55 mm

Yearly Calendar

2020, 2021, 2022

Yearly Index

Apr. 2021 - Mar. 2022 (2 pages)

Monthly Calendar

Mar. 2021 - Apr. 2022 (28 pages)

Daily Quotes

One per week (Japanese)

Weekly Calendar

Mar. 1, 2021 - Apr. 3, 2022 (114 pages)
*All weekly pages include quotes.

Graph Paper

75 pages

Informational Pages

Shorthand Note-Taking / Graph Paper / Using Common Items to Measure Size / My 100 / Solar Terms / Weather Terms for your Techo / Basic Posture Techniques / Emergency Preparedness / Age Table / Conversion Chart / Getting the most of Hobonichi / Contact List / Personal Notes

Listed Information

Week of the year / Rokuyo (traditional Japanese calendar) / Solar terms / Japanese holidays / Moon phase (weekly pages include every phase, monthly calendars only include full and new moon)

Note: The Hobonichi Techo's Tomoe River paper is designed to prevent bleed-through, but some fountain pens and water-based ink pens are not compatible with this paper. When switching to a new pen, we recommend testing the pen somewhere in the book, such as the back memo pages, to see if the ink bleeds through or takes an especially long time to dry.
For the full collection of Hobonichi items; https://www.stickerrificstore.com/hobonichi