You've pulled a Doraemon comic from your bag! No, wait, that's a techo cover. This national icon is now featured on a Hobonichi Techo cover, so you can feel like you're carrying the comic with you wherever you go.

Because the cover's designer, Idea Oshima, has filled this set with so many playful tricks to have fun with, we're calling it a Cover Maker.

The cover itself features a simple drawing of Doraemon and Nobita, but the package also includes an exclusive Cover on Cover, printed in silver with the Doraemon logo on the front and the series title along the spine.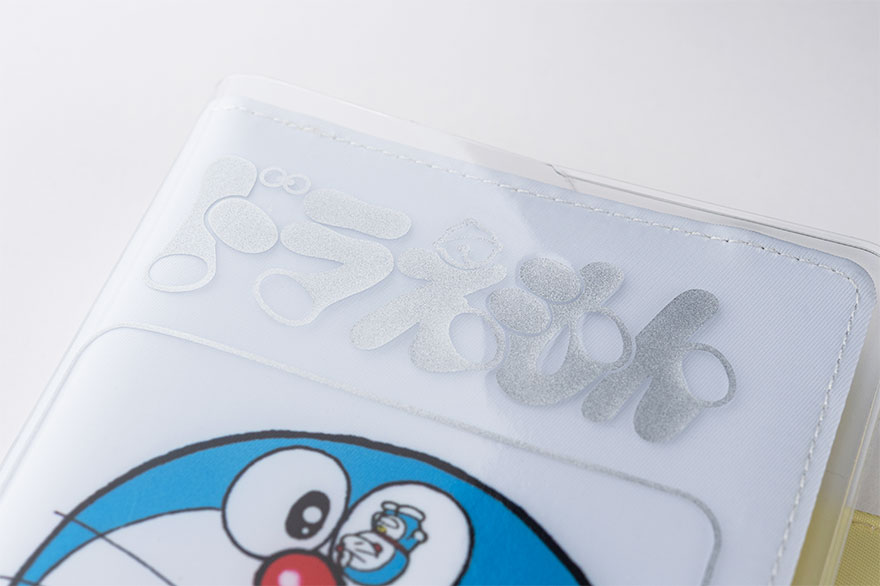 Put it on, and wow! Suddenly the cover transforms into a cute version of the first volume of the Tentomushi Comics series.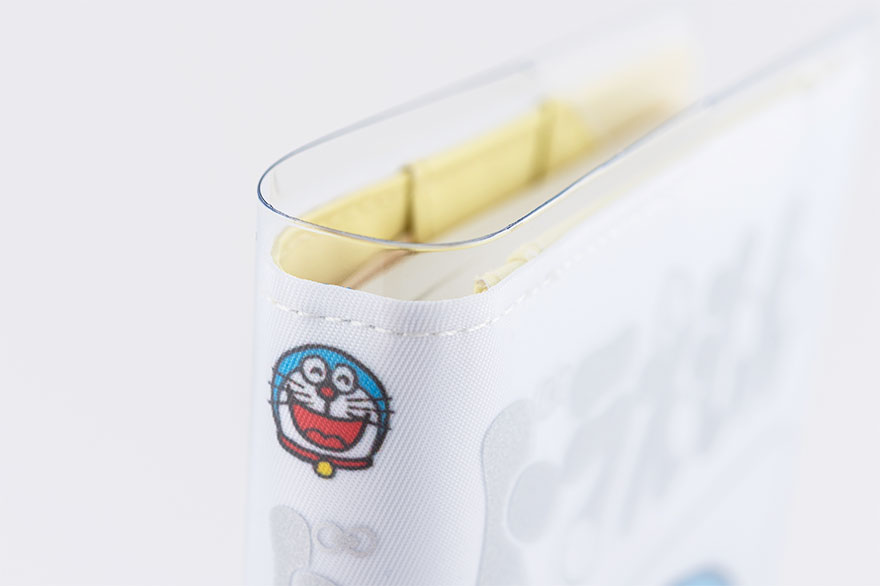 But that's not all. The Cover Maker also includes all kinds of accessories.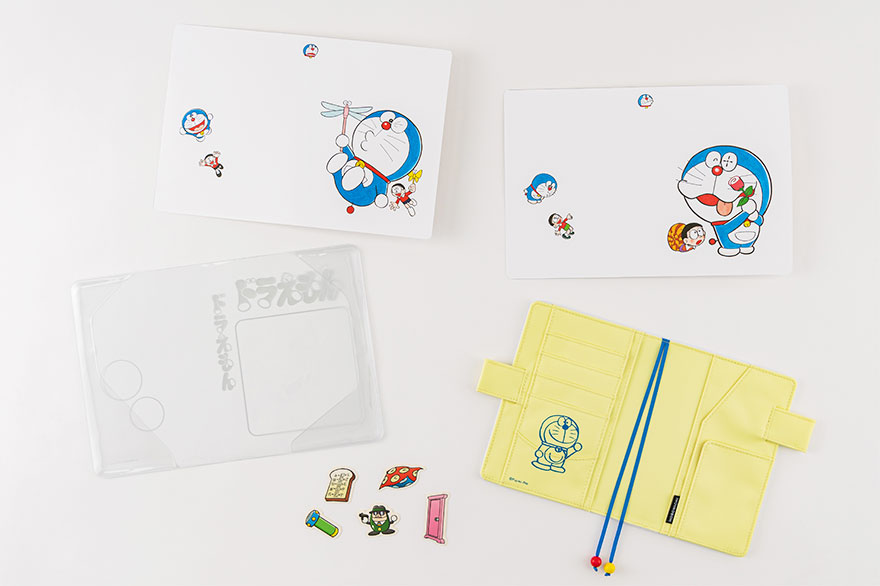 The two included design inserts sit inside the Cover on Cover to switch up your cover's look. These designs are from the covers of volume 9 and 18 of the comic series.

Doraemon is on the interior pocket.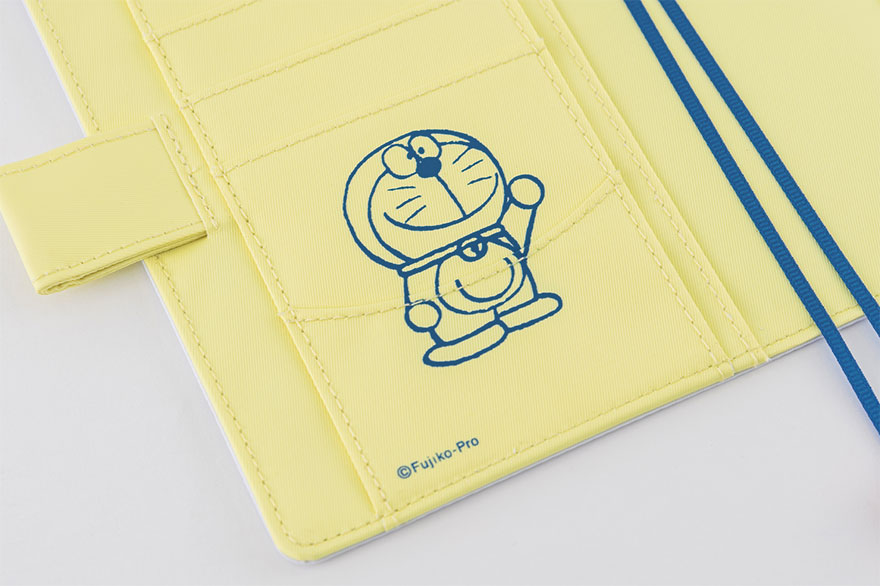 Inside the "smile" pocket—designed to look like Doraemon's bottomless "4D pocket"—are stickers of some Doraemon's secret tools, to stick anywhere you'd like: The Anywhere Door, Shrink Ray, Time Kerchief, Wrestling Killer, and Memory Bread.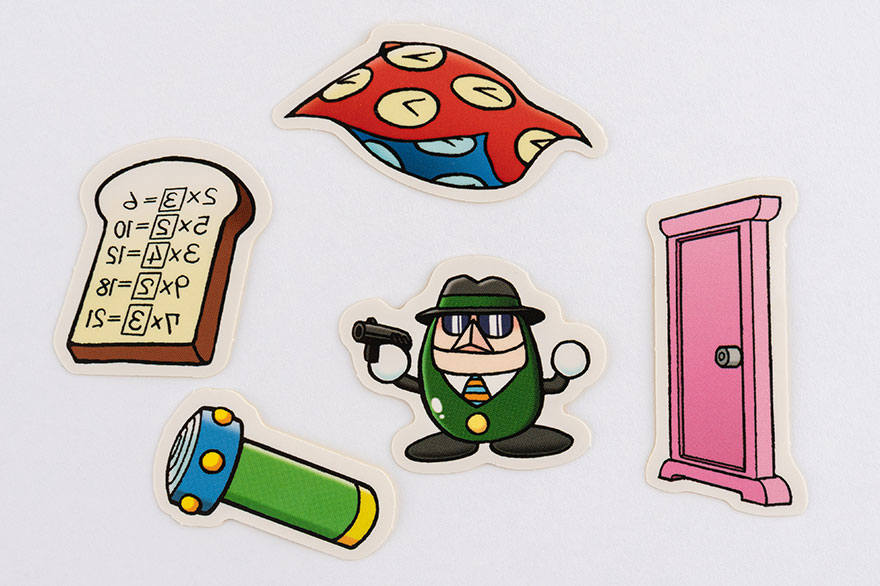 The two bookmarks include red and yellow circular charms, reminiscent of Doraemon's tail and his bell.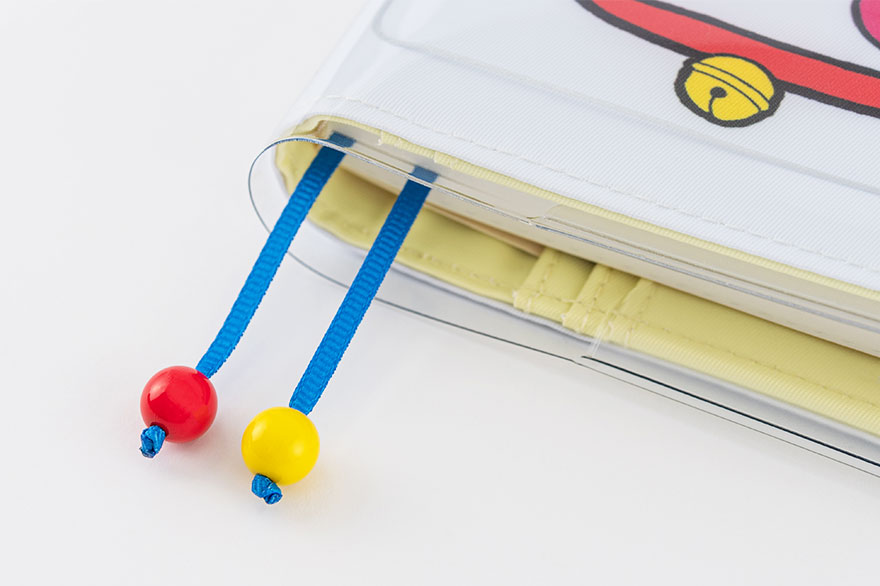 This cover is packed with cuteness that will uplift your mood by just holding it in your hands.
Cover
Size

A6 size
W: 117 x H: 165 x T: 20 mm / W: 4.6" x H: 6.5" x T: 0.8"
*Excluding pen holders
*Specifications may vary slightly

Main material

Cover: Polyester
Cover on Cover: Soft PVC
Cover alternative: Paper
Stickers: Paper
Book (Planner / English / January Start)
Size

A6 size
W: 105 x H: 148 x T: 14 mm / W: 4.1" x H: 5.9" x T: 0.6"
*Actual book size may vary slightly

Language

English

Pages

448 pages

Binding

Stitch-binding

Paper Type

Thin, light Tomoe River paper resistant to bleeding and designed for planners.

Graph Paper Size

4 mm

Yearly Calendar

2021, 2022

Yearly Index

Dec. 2020 - Mar. 2022 (8 pages)

Monthly Calendar

Dec. 2020 - Mar. 2022 (32 pages)

Daily Pages

Jan. 1 - Dec. 31, 2021 (377 pages)
*A blank two-page spread is featured at the very beginning of the book to provide a free area when starting out the book.
*A page is included at the beginning of each month to help in planning ahead.
*Every two-page daily page spread includes one daily quote.

Daily Quotes

One quote per two-page spread (English)

Weekly Pages

Not included

Memo Pages

18 pages

Informational Pages

Important Contacts / International Size Charts / Conversion Table / My 100 / The Japanese Bread Shop / Personal Notes

Listed Information

Day of the year / Week of the year (listed on monthly calendars and daily pages) / Moon phase (daily pages include every phase, monthly calendars only include full and new moon)
Note: The Hobonichi Techo's Tomoe River paper is designed to prevent bleed-through, but some fountain pens and water-based ink pens are not compatible with this paper. When switching to a new pen, we recommend testing the pen somewhere in the book, such as the back memo pages, to see if the ink bleeds through or takes an especially long time to dry.
For the full collection of Hobonichi items; https://www.stickerrificstore.com/hobonichi